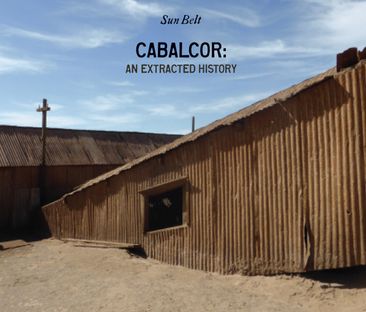 CABALCOR: AN EXTRACTED HISTORY, the new book and album by SUN BELT is available now through ANVIL PRESS and OFFSEASON RECORDS. CLICK HERE TO ORDER THE BOOK AND ALBUM DOWNLOAD! 
Sun Belt's collaborative work of fiction is a genre-defying chronicle of a tar sands company town. Drawing from an array of invented sources such as journals, film transcripts, environmental studies and police reports, Cabalcor charts the rise and fall of a mythical boomtown that, within the span of a century, becomes a desert wasteland.
The multi-layered narrative is woven together by an extraordinary blend of texts, both black and white and colour images, and a full downloadable album of Sun Belt's quietly surreal, dusty music.
CLICK HERE  TO CHECK OUT SUN BELT'S "CHAMPION THE WONDER HORSE" on YouTube
VISIT SUN BELT ON FACEBOOK 
VISIT SUN BELT ON BANDCAMP